Fully expandable, Up to 30 axes, Unlimited possibilities
SAFELINE VARIO
SAFELINE VARIO is both the most versatile and most compact safe monitoring system. The central unit alone is a fully operational safety system that replaces most I/O modules because of its many inputs and outputs. It's available in different versions, including with integrated speed monitoring and the most modern comparator function.t.
We were the industry's first to master safe drive monitoring. When developing SAFELINE VARIO we used our decades of know-how to develop a system to monitor speed, position, direction, and brake — always for each two axes.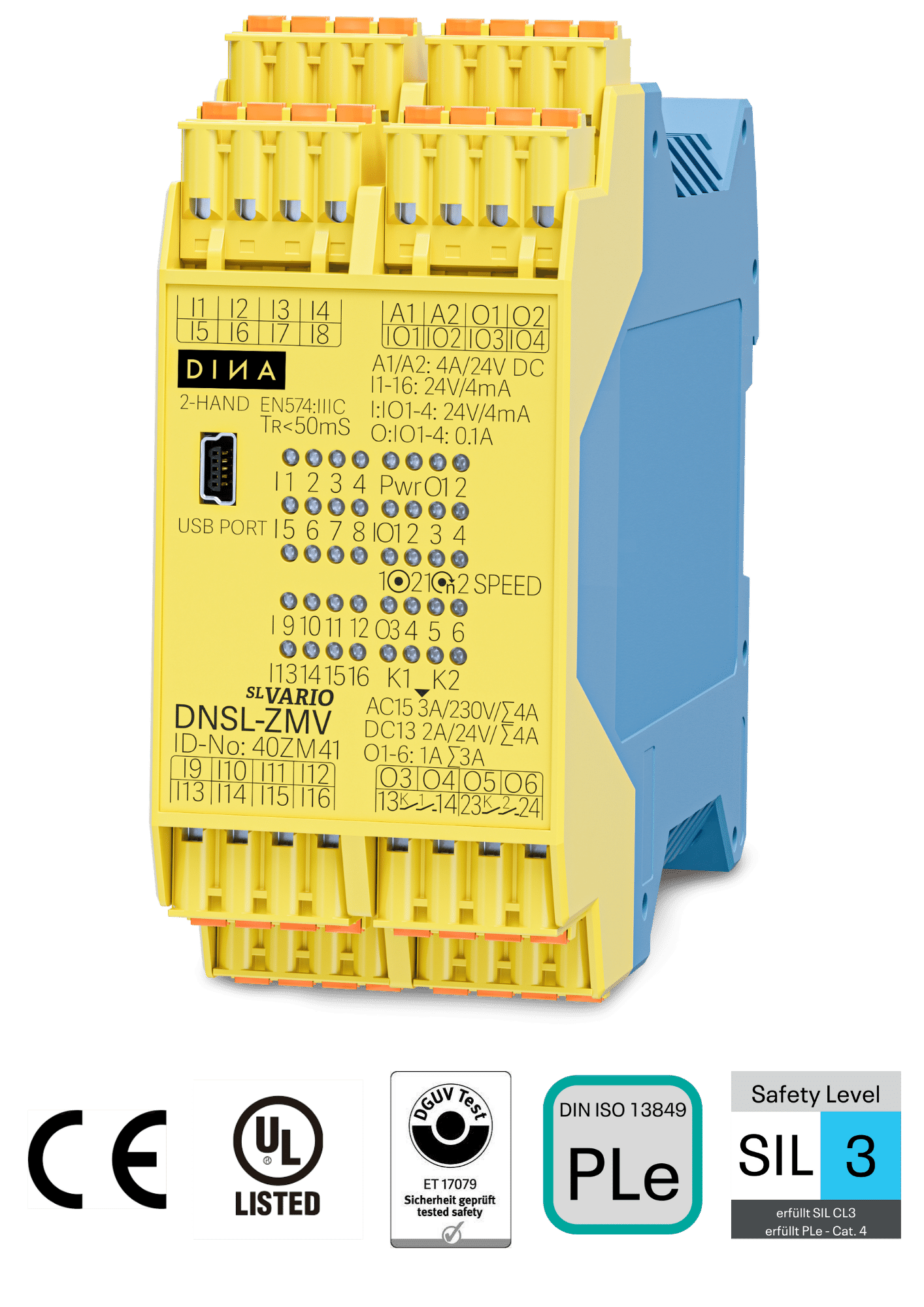 passion for detail.
SL VARIO is mounted and wired without screws: Each individual module snaps into a DIN rail in the control cabinet. The adaptive bus system automatically and intelligently recognizes and addresses the system. The highly durable single or double spring clips simplify and speed up wiring.
brains. to give.
The internal flash storage hosts instructions and the configuration software application SAFELINE VARIO Designer. Just connect the system to the USB port of a computer. Optionally the system comes with a pre-configured application so you can set-up your machine in no time. The best is yet to come: The central unit records and stores any malfunction of the machine — accessible even years later. Child's play when it comes to diagnosis.
open-minded.
Three different I/O modules expand each system with a great variety of outputs. Springs can either be configured as input or output – and always safe. You can use up to 14 modules in one application, which provide contact outputs, semiconductor I/Os, and inputs for various safety features. In some scenarios springs can even be configured as I/Os. And the matching fieldbus interface makes visualization and diagnosis a breeze.
diagnosis like magic.
Monitor the largest plants with the most complex safety applications without coding a single line. The software application SAFELINE VARIO designer helps you to parameterize your system and is included for free —optionally with an application for your personal needs. The ease-of-use of the graphical user interface makes configuration, diagnostics, and validation completely intuitive. Even remotely with additional hardware. LEDs at the front of SAFELINE VARIO display the system's actual status, so you now what's going on even without a computer.